Sensory City – Studio NAND
14–17.11.2013 | Katowice | Biuro Instytucji Kultury Katowice – Miasto Ogrodów, Dom Oświatowy Biblioteki Śląskiej
14.11. (czwartek): 17.00–20.00 (spotkanie w biurze IKKMO)
15.11. (piątek): 10.00–18.00
16.11. (sobota): 10.00–18.00
17.11. (niedziela): 10.00–12.00
Warsztaty prowadzone przez interdyscyplinarne studio projektowe NAND z Berlina, które specjalizuje się w eksplorowaniu relacji pomiędzy społeczeństwem, nauką i technologią.
Steffen Fiedler
Jonas Loh
Stephan Thiel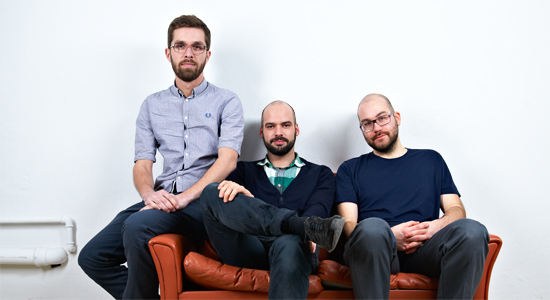 Cities are ever-evolving spaces of social life. They are in a constant state of flux. From industrial to post-industrial, from provincial to urban, from evolved to constructed through massive urban planning projects. With these changes the people's experience and their interaction within a city change as well. The data-driven city becomes a reality in which we try to understand and improve our urban habitats through a new technological nervous system. The impact of this development is hardly explored, many questions are left unanswered.
This workshop explores new opportunities for cities created by these technological networks and data. We will look at how sensors can be used to reveal unknown patterns of activity in the city space and think about concepts that leverage a network of connected objects for new communicative systems and social awareness. We will document these concepts though photos, videos and prototypes depending on the experience of the participants.
Participants of any background are welcome. Studio NAND and Medialab Katowice will provide a set of sensor-based objects and examples for hands-on exploration of ideas and concepts. For this part, some technical knowledge would be beneficial and we encourage participants to build groups for collaboration.
Warsztaty prowadzone w języku angielskim. Udział jest bezpłatny, liczba miejsc ograniczona. Przejdź do formularza zgłoszeniowego.